This red and white scrap is definitely a labor of love. My DD started out just making a small panel for her class project Fall semester of last year using just my red and white scraps. She ended up not wanting to cut it up after the panel was pieced together. I suggested that she continue and make three more panels to form a large quilt top for her bed.
She kept sewing away every chance she got. It was crazy watching her piece this quilt top together. She used even the smallest one inch strips and here I am throwing them away because they're so tiny. I am just going to keep them from now on in case she decides she wants to make another scrap quilt. There's just no rhyme or reason on how she sewed this top together.
She used up pretty much all of my red and white fabrics. I had to start digging in my stash to find more for her to use. In the end we only needed to go and buy two fat quarters of a white tone on tone print. I helped her trim the panels so she can sew them into rows because she was not sure of how to accomplish it. Although I did tell her I will teach her how to bind her quilt because I am not doing it ;D I am so proud of her for getting this quilt done. It was quite a project.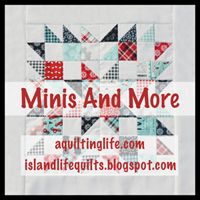 **************************************************************************************